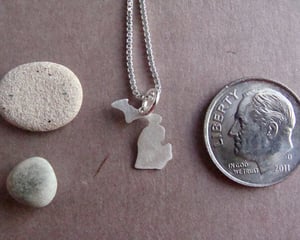 $

38.00
Wear your story around your neck.
Part 1: The story
Let me help you tell your story. We all have a story and what better way to share it than by wearing this special piece. Perhaps you've moved and you want a reminder of home, maybe you just can't imagine living anywhere else and you want everyone to know, maybe it's where you first fell in love, or a memorable travel experience. Whatever your story is it's unique and special to you just as this necklace will be.
Part 2: The process
Each piece is hand made by me in my home studio from start to finish. I hand saw each and every piece with as much accuracy as possible. I ensure its perfection as I hammer or sand each one depending on what you prefer. I can then cut out a freehand heart on your tiny pendant if you would like, making it even more unique. Finally I smooth out the edges, buff it, and package it in a special gift box.
Part 3: The details (what you'll get)
-A sterling silver tiny Michigan pendant that measures 1/2" by 1/2" hung on a sterling silver chain
-A choice of a shiny (hammered) or matte (sanded) finish
-A choice of a tiny heart cut freehand as long as there is room for it-(please mention in the notes to seller or message me directly if you would like one, otherwise no heart will be included)
-Comes with an 18" box chain (additional option of a 16"or 20" chain at no extra cost)
-Your piece will be beautifully gift wrapped to be cherished or gifted (includes cleaning intructions)
-Each one is made to order and just for you!
I am here to answer any questions or concerns you may have before and after your purchase. Feel free to contact me.